Valentine's day might be an unpleasant day of the year for singles, but it's awfully dreadful for someone who has just been dumped and is hoping to get an ex back.
If you want to get your ex back, Valentine's day can be really confusing.
Should I call my ex?

Should I wish them Happy Valentine?

Should I ask my Ex out?

Should I go on a date with someone else?

Is my ex planning to go on a date on V Day?
In this article, I'll try to clear out all the doubt you might have regarding your ex and Valentine's day.
Important Note: Before you decide what you should do on Valentine's Day, make sure you have a good overall strategy to get your ex back. I lay out my best strategy in this article. Make sure you check it out.
Important Note 2: Before you make any moves, find out your chances of getting your ex back by taking this quiz. It will tell you your chances with 80% accuracy.
Should You Call or Text Your Ex On V Day?
The only reason to call your ex on Valentine's Day is if you two are going out on a date. Any other reason for contacting your ex will make you look needy and desperate. You might want to convince yourself with reasons like
I just want to wish them a Happy Valentine

We always wished each other Valentine, even before we were together. I think it'll be rude not to wish them.

I just want to call my ex and know if he/she has any plan for Valentine
And all these reasons reek of neediness. Here's why.
You and your ex are officially broken up right now. If you contact them on Valentine's day, the day made famous by greeting card companies for being the most romantic day of the year, you are making it obvious that you are not over your ex and you are hoping that somehow this magical day will make them come back to you.
But What If My Ex Is Going On a Date On V Day?
Even if your ex is planning to go on a date on Valentine's Day, calling them is not going to change that. You are only going to make yourself look like a fool trying to convince your ex not to go on a date.
But I Just Want To Know if My Ex Has a Date?
How will it affect you? It'll only make you feel worse. And it's going to make you look needy and desperate in front of your ex. Let them have their date, if you ever get back together again, you can ask them whether or not they had a date for Valentine's. But until then, don't talk about it.
Should I Get a Gift for My Ex on Vday?
Again, it's a needy and desperate move. Unless you are already back together (or are extremely close to reconciliation), getting your ex a gift will show him that you are expecting the magical Valentine's day to reignite their feelings for you. I won't recommend getting them a card either.
Should I Go Out On a Date?
Absolutely. It's better than sitting home and feeling miserable about yourself.
Should I Ask My Ex Out on a Date?
Now I mentioned you should only contact your ex on Valentine's Day if you want to ask them out on a date. But whether or not you should ask them out depends on your situation.
If you and your ex boyfriend or girlfriend are extremely close to getting back together, then yes asking them out might be a good idea.
On the other end of the spectrum, if you two have just broken up, and/or you are still in the no contact period, then asking your ex out is extremely risky.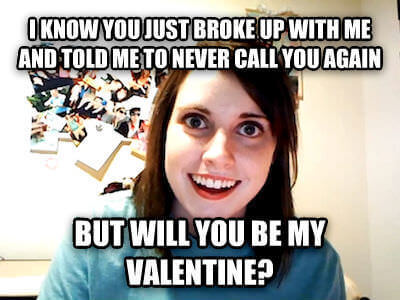 You have to evaluate the risk in asking your ex out on Valentine's Day. If you want to get your ex back, you need an overall strategy (like the one in the 5 step plan). You have to evaluate if asking them out on V Day fits into your strategy. If it doesn't, you have to let this day go.
Don't fret about missing one Valentine with your ex. It's just a holiday overhyped by the media and the greeting cards company. Your goal is to have a long and healthy relationship with your ex, which will include many Valentine, New years, Birthdays etc. that you'll cherish forever. Don't jeopardize your goal just to spend one overhyped holiday with your ex. Instead, try this step by step guide on getting your ex girlfriend back.